Audrey Hep burn who born on may 4 1929 .She was a British actress.She was also a humanitarian.She made her name both in films and fashions.One of the greatest achievements of this beautiful girl is that she ranked as the third greatest screen legend in the best history of American cinema. She also been placed in the international best dressed list hall of fame.She is very famous personality because of her work and talent.She shows her talent in many time big screen and she approved herself as the best actress of her time which was not an easy task in the history of america.
She shows he talent not only in films but she was also very  intelligent lady that gives her best quotes of love and many other types.She want to see woman on top and she work a lot to see woman on top.She is actually a woman lover who want to see woman on the top.
As for the lovers of her quotes about life,love,inspiration,beauty and hurting type today I am going to share the best collections of her quotes that you can download them share them with others also use them in your Facebook covers and get the attraction very much.
I Am Strong
I believe in being strong when everything seems to be going wrong.I believe that happy girls are the prettiest girls.I believe that tomorrow is another day,and I believe in miracles
Love Who Make You laugh
I love who make me laugh.I honestly think its the thing I like most to laugh.It cures a multitude of ills.Its probably the most important thing in a person.
Enjoy Your Life
The most important thing is to enjoy your life to be happy its all that matters.
True Beauty Of Woman
True beauty in a woman is reflected in her soul
For Beautiful Eyes
For beautiful eyes look for good in others ,For beautiful lips speak only words of kindness.
Nothing is Impossible
Nothing is impossible the word itself says I'm possible
Hand Me My Purse
Hand Me My Purse would you darling.
Tomorrow is Another Day
I believe that tomorrow is another day and I believe in miracles.
Audrey Hepburn Quotes
There is more sex appeal than just measurements.I don't need a bedroom to prove my womanliness I can convey just as much sex appeal,picking apples off a tree or standing in the rain
Fairy Tales
If I'M honest I have to tell you that I still read fairy tales and I like them best of all.
Hold Each Other
The best thing to hold onto life is each other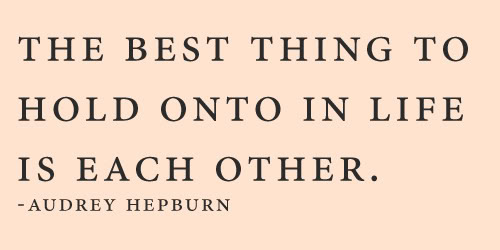 I Believe In pink
I believe in pink and I believe in maracles
Alone I am happy
I have to be alone very often.I'd be quite happy if i spent from Saturday night until monday morning alone in my apartment .That's how I refuel
I Believe In Pink
I believe in pink.I believe that laughing is best calorie.I believe in kissing.Kissing a see…
Terrible Need To Give
I was born with an enormous need for affection and a terrible need to give.
People Are Important
People even more than things have to be restored,renewed,reviewed and redeemed,Never throw anyone out.
More Than physical Beauty
There's more than physical beauty
Believe In Tomorrow
To plant a garden is to believe in tomorrow.
Health To education Is Right
Every child has the right to health to education to protection to tenderness to life.
I Feel I have Lost Myself
I feel like I have Lost myself and I don't know where I am hiding.
Terrible Impulse
All night long I've had the most terrible impulse to do something.
Hate Giggle Girl
I hate girls that giggle all the time.
End up Running Into Yourself
because no matter where you run.you end up running into yourself.
Be Original
 Mind Blowing

Strong
 Sweet Quote

Love Quote